14 Jun

UNIKAT: 100 % YOU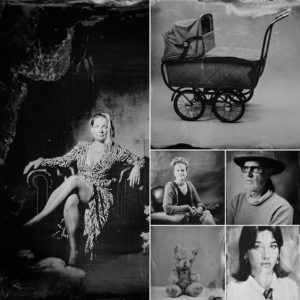 We are passionate about photography, that of today, that of tomorrow but also that of yesterday. Experience the charm of bygone times and be enchanted by the beauty and uniqueness of Wetplate photography (Collodion). With this nostalgic technique, your memories become real works of art, giving off a timeless aesthetic and a special atmosphere.
Without optimization or digital retouching, our "Unikat" photos are absolutely authentic. It takes an hour to create a single photo. The "wetplate" technique (collodium) is traditionally worked in the laboratory. After taking the image with a classic camera, the image is developed on a support plate – usually glass – in the darkroom. Each photograph is unique, handmade with passion. Be present at the "magic moment" when your photo comes to life through development with special chemicals.
Let yourself be enchanted by the magic of wet photography! A unique experience at the opposite end of the fast-paced digital world: 100% authentic, 100% YOU.
Contact us and dive into the world of wet plate photography.